An Interview with the late Hugh Hopper
by Mark Bloch
The Knitting Factory
New York City

September 6, 1998
June 9, 2009--Hugh Hopper, underrated songwriter and the late great bassist for the Soft Machine and a great many other bands, passed away this week after a battle with leukemia. Here is an extended interview I was privledged to do with him in 1998 on a late summer's day between two gigs at New York's Knitting Factory. The first was the U.S.A. debut of Brainville with Daevid Allen, the late Pip Pyle and Kramer and the second, a few days later, was a tribute to Robert Wyatt with a wonderful array of performers from Fred Frith to Karen Mantler. Hugh and I covered much of his wonderful career in this conversation and I was grateful to ask him these questions after decades of enjoying his contributions. We will miss him and his unique musical inventions. His playing and compositions on The Soft Machine Volume II remain unparalleled in music history!
Mark Bloch: The Soft Machine really drew me into the avant garde. You guys were a big influence on me. So it's great to finally meet you.
Hugh Hopper: Here I am!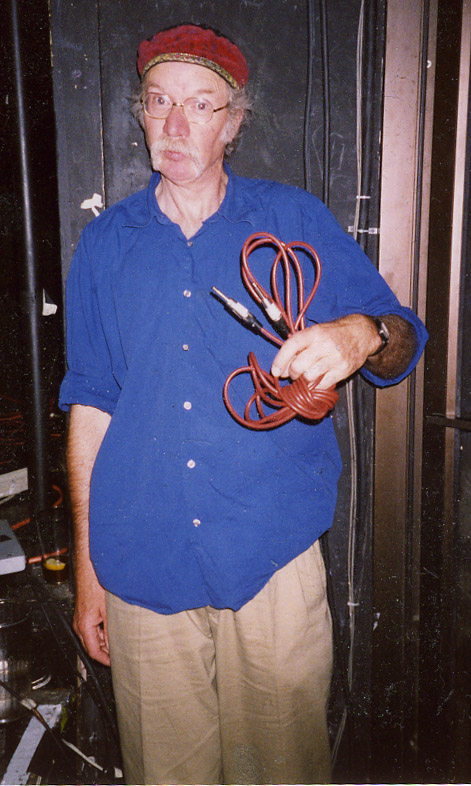 Hugh Hopper, pausing to mug for the camera while gathering up chords and cords, after a gig at the Knitting Factory in New York in 1998. (Photo by Mark Bloch)
Ever since you made that 1984 album, I've always felt you were the most "out there" of all the Soft Machine musicians (and that's really saying something!) Yet, I hear the last time you came to New York you played a bunch of James Brown songs. Is there a pop side of you I'm not aware of?
I used to... I still do... love James Brown.